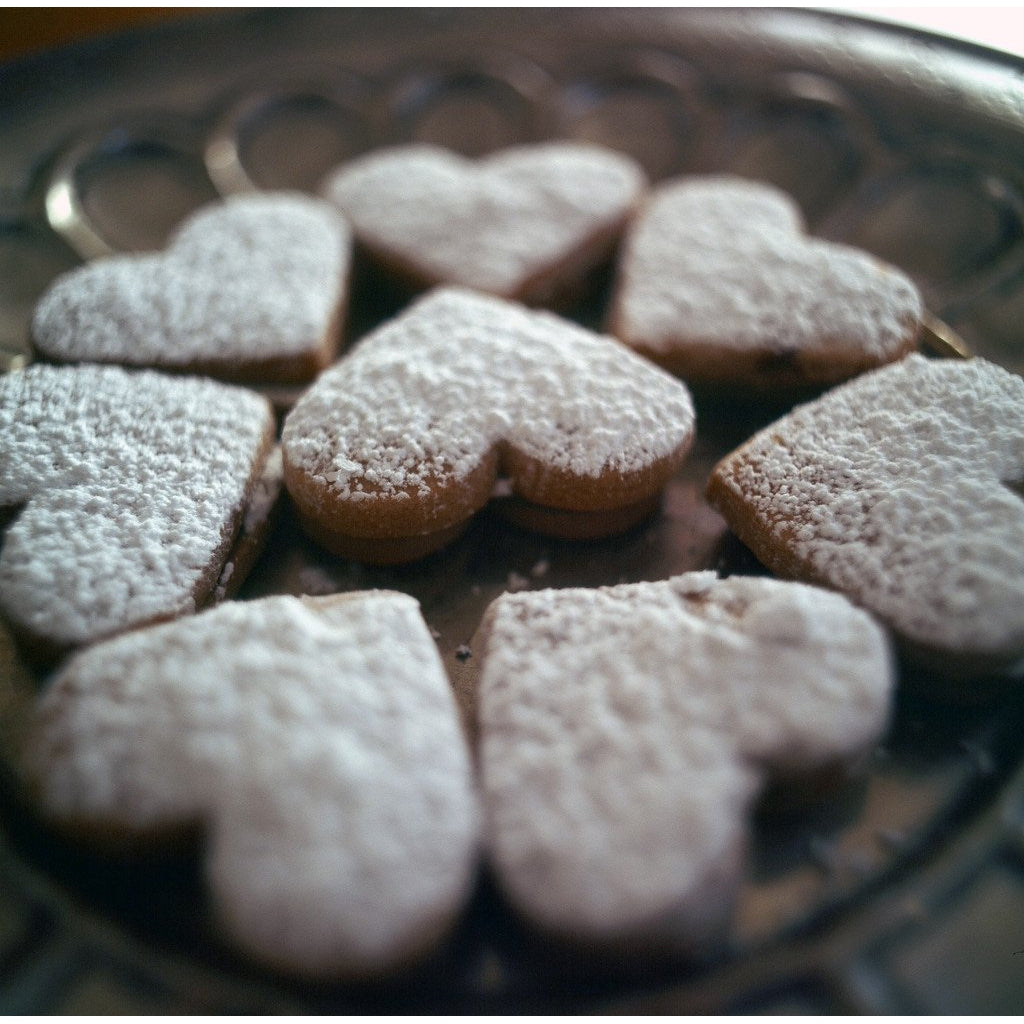 San Diego
Pickup & Delivery

Handmade
From Scratch

The Finest
Ingredients

Authentic
French Desserts
Description
These sable cookies are a Bonpastry signature and always one of our bestsellers. Tender butter cookies are sandwiched together with your choice of chocolate ganache, or strawberry, raspberry, or apricot jam.

Sable cookies are named for the French word sablé, meaning "sandy." The process of rubbing cold butter into flour and sugar creates a sandy texture that forms the base for these delicate shortbread cookies.

A light dusting of powdered sugar is all it takes to transform them into something sublime. Your only regret will be ordering just one flavor.

Serving Suggestions

Enjoy a delightful lunch with a slice of creamy quiche, a side salad or bowl of soup, and delectable sable cookies for dessert.
Sable cookies make the perfect addition to your wedding or baby shower dessert table. (Be sure to order a selection of filling flavors, so everyone finds a favorite.)
Ingredients
The Sable cookies originate in a French city called Sablé-sur-Sarthe in Normandy. The French word 'sable' means 'sand' or 'breadcrumbs'. The cookies are named like that because during the process of cooking the cold butter is rubbed into flour and sugar, what forms little pieces of dough resembling breadcrumbs or sand. The story of the cookies starts in 1828, when during the trip to Normandy, the adviser of the King, Masson de Saint-Amand, tasted the biscuits in a small local boulangerie, describing them as 'the kind of biscuits, which are quite soft and which crumble like sand when we eat them. Later, around 1870, the word 'sablé' was included in Masson de Saint-Amand's dictionary, defined as 'the name of cookies in Normandie'. Thirty years after that, the Sable cookies were noted as being 'in fashion' among the French nobility and later became 'a delicatesse', which every French noble home was craving. For decades after, different patissiers from around the country has been inventing their own recipes of the Sable cookies, which gave the biscuits many new names like biscuits of Nançay, Argentan, Carentan, Yvetot, Cliff, Bayeux, and other.
Delivery & Pickup Information
Delivery Information
We are delivering at this time with no delays with safe no-contact delivery if requested.

We look forward to the opportunity of serving you our delicious pastries delivered directly to your door to bring joy to your household during these times.

We deliver in San Diego County area 7 days a week. Please call us anytime at (760) 494 - 7512 for additional delivery information or requests.

We offer Same Day Delivery to the following areas for a flat rate of $5:
Carlsbad, Leucadia and Vista,

We offer same-day or next day delivery to the following areas for a flat fee of $7.
Encinitas, Solana Beach, San Marcos, Oceanside,

We offer same-day or next day delivery to the following areas for a flat fee of $9.
Del Mar & surrounding areas.

We offer same-day or next day delivery to the following areas for a flat fee of $12.
La Jolla, Carmel Valley, Rancho Santa Fe, Sorrento Valley and surrounding areas.

We offer same-day or next day delivery to Downtown San Diego and surrounding areas for $17

Reviews
Customer Reviews
12/12/2020
Nguyen L.
United States
Sable cookies-Deliciousness
Thank you for the beautiful and delicious cookies!!! It was a gift for my sister's bday, and she loved them!!!
10/13/2020
Luke Q.
United States
Just the right touch!
Quality product, excellent friendly service. My daughter and granddaughter love it!!!
05/09/2020
Mary R.
United States
Delectable Cookies; phenomenal customer service
My experience with Bonpastry was amazing. I am in Upstate NY, and I needed a "Sweet treat" gift to send to my mother for Mother's Day, as she was unexpectedly unable to return home from California before the holiday. Bonpastry filled my order for delicious Sable cookies and Macrons in less than 24 hours, and when my card message did not come through properly via computer, they emailed and called to ensure it was delivered as I intended. The packaging was beautiful, and my mother absolutely raved about how delicious and perfect the cookies were. In fact she told me that they were the best cookies she had ever tasted, which is high praise from a woman who is an 88 year old traveler who has enjoyed pastries from many locations and and countries. I cannot recommend Bonpastry highly enough. Thank you for helping me make my mother's "Mother's Day" special from 2,800 miles away!
Call us today at 760-456-4731 to inquire
about our services.