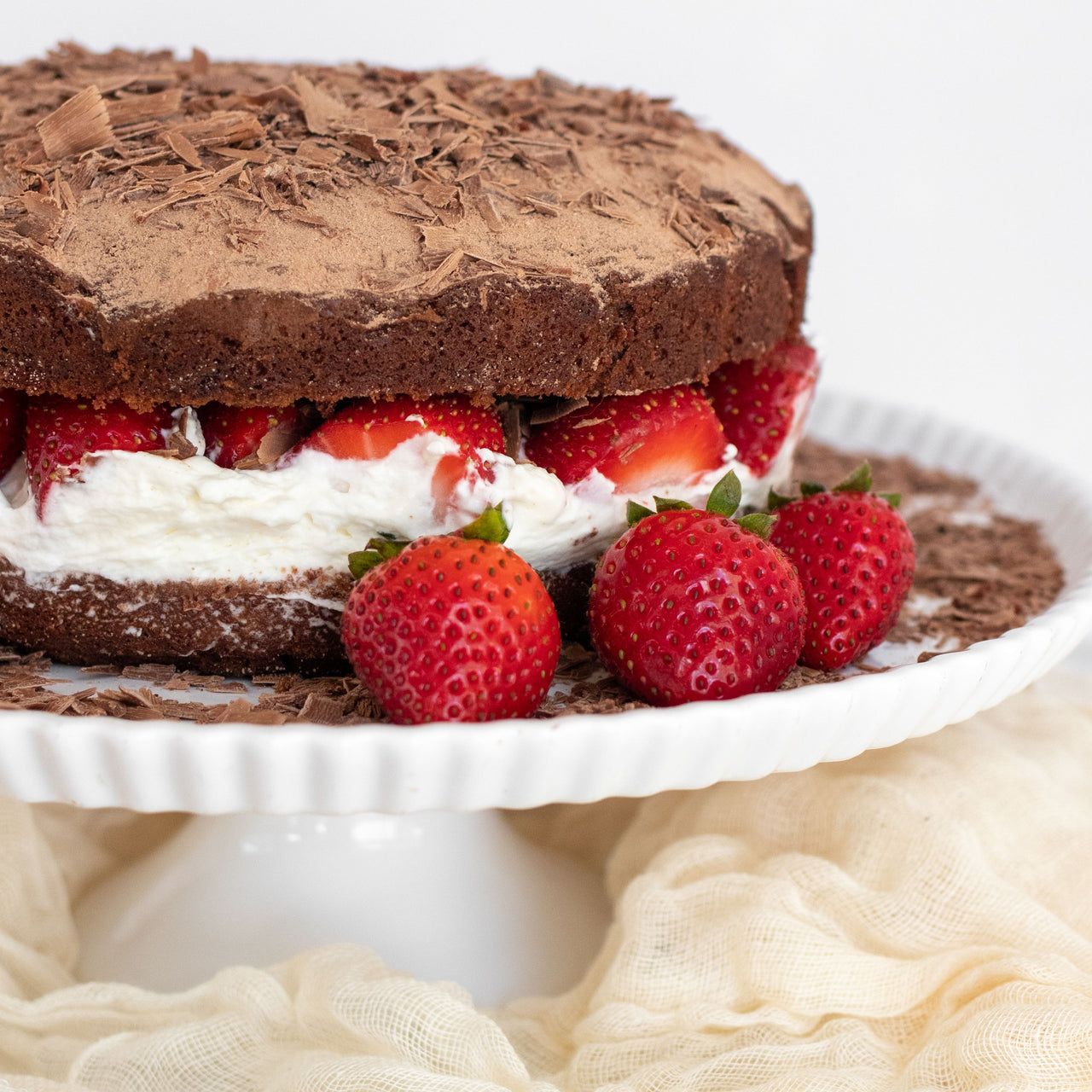 San Diego
Pickup & Delivery

Handmade
From Scratch

The Finest
Ingredients

Authentic
French Desserts
Description
Welcome to the French take on chocolate-covered strawberries. The Bonpastry Chocolate Strawberry Cake is one of those rare treats that appeals whether you're a chocoholic, vanilla fan, or berry lover.

The base is a moist chocolate layer cake, filled with vanilla Crème chantilly, a lightly flavored whipped cream. Next comes a layer of juicy fresh strawberries to bring bright tartness to the cake and cream.

The whole beautiful confection is topped with a layer of milk chocolate shavings and a dusting of European cocoa powder, for a decadent finish to a cake that earns five stars every time.

Serving Suggestions

There's no better birthday cake than a Chocolate Strawberry Cake, and it pairs beautifully with coffee or a glass of Cabernet Sauvignon wine.
Have a "berry" good party! Create a gorgeous, delicious dessert table with Chocolate Strawberry Cake, Berry Champagne Cake, and berry-topped Fruit Tarts.
Ingredients
It is not a very old cake, when one goes back to its origin, one does not find the trace of it before the XX ° century. In the heyday of the prestigious Austro-Hungarian-German cakes, such as the Sacher Torte, the Dobos Torte, the Prinz Regent Torte, the Strudel or the Frankfurter Kranz, it is unknown. Would his name come from a dessert from South West Germany and northern Switzerland that consisted of serving cherries in a kirsch syrup with whipped cream, sometimes topped with chopped walnuts or hazelnuts? Would it come from its resemblance to the female costume of the Black Forest, black skirt, white blouse with foamy sleeves, and hat trimmed with big red pompoms? One track: according to the archive service of the city of Tübingen, the cake of the Black Forest was invented in 1930 by Erwin Hildenbrand, pastry chef of his state at Cafe Walz. The city of Tübingen once belonged to the administrative circumscription of the Black Forest, which is no longer the case today. There is a hand-dated photo of 1936 showing the master pastry chef preparing a Black Forest cake. But no real proof, without more information, that he is the inventor. Let's continue the investigation. In 1934 there is a first mention of a recipe entitled "Schwarzwälder Kirschtorte" in a pastry book. ( Johannes Martin Erich Weber: 250 Konditorei-Spezialitäten und wie sie enestehen: Der praktische Unterricht in 580 Bildern von Werdegängen aus 24 Fachabteilungen bei Kleinster Massenberechnung Weber, Radebeul-Dresden 1934).But it does not have its current composition at all, it is quite far enough: it is a sandy bottom with hazelnut, topped with cherry jam, covered with walnut biscuit soaked in kirsch. This is garnished with a ring of butter cream with a dome of Bavarian cherries in the center. The decoration consists, as today, rosettes of whipped cream, cherries and chocolate chips. It is not conclusive, it looks like an imitation, a declination, an embellishment. Looking further, we see the very first mention in 1915, during the First World War. That year, a young Swabian pastry chef named Josef Keller found work in a pastry shop in Bad Godesberg near Bonn, where a popular dessert was served among the students. This dessert consisted of cherries and whipped cream. Josef Keller presented it on a biscuit base soaked in a kirsch syrup and decorated it with chocolate chips. What is the basis of the cake that we know today as the Black Forest. In any case the main elements are there. This gentleman Keller had worked in several places before the Great War, making his "tour of Germany" learning in Germany and also in Alsace, which at the time, remember, was annexed. He was then incorporated into an infantry battalion, and the cherry cake forgotten the time of the war. Demobilized, Josef opened a pastry shop in Radolfzell on Lake Constance in 1919, which he ran until 1947, where he took up his idea and made cherry, whipped cream and chocolate cakes from the Black Forest. The museum of this city would keep the archive of the recipe of 1915. Josef Keller died in 1981, he bequeathed to his apprentice his recipe book featuring the original recipe of the famous cake. The apprentice's son in question, Claus Schaefer, is still a baker and guess what his specialty is ... the page of the cookbook of Josef Keller, where is recorded the original formula of Schwarzwälder Kirsch , cherry cake from the Black Forest. In the thirties, the cake spread throughout Germany, it was served in the best pastries in Berlin and large cities. Was it the version of the 1934 book with butter cream and bavarois? It is unknown, but this version is not the one that posterity has retained. The one we know today, with the whipped cream is in line with the 1915 version of Josef Keller, additional presumption. But it was not until after the Second World War, or even the seventies, that he really took off to conquer the world, so much so that it is now declining in every yogurts and other industrial desserts, up to ice creams, Christmas logs, even the most unbridled fantasies. It is a dessert known and appreciated throughout the world, with very marked geographical origin. One hundred years ago, a pastry chef by the name of Josef Keller would have made the first black forest in his tea room in Bad Godesberg. "Originally, he used cherries, kirsch, cream and chocolate, his apprentices wanted to bring this dessert home, and the pastry chef had the idea of ​​adding a sponge cake," explains Martin Herrmann, Doubly starred chef at the Dollenberg restaurant. A century later, gourmands are still so many to appreciate this cake become mythical.
Delivery & Pickup Information
Delivery Information
We are delivering at this time with no delays with safe no-contact delivery if requested.

We look forward to the opportunity of serving you our delicious pastries delivered directly to your door to bring joy to your household during these times.

We deliver in San Diego County area 7 days a week. Please call us anytime at (760) 494 - 7512 for additional delivery information or requests.

We offer Same Day Delivery to the following areas for a flat rate of $5:
Carlsbad, Leucadia and Vista,

We offer same-day or next day delivery to the following areas for a flat fee of $7.
Encinitas, Solana Beach, San Marcos, Oceanside,

We offer same-day or next day delivery to the following areas for a flat fee of $9.
Del Mar & surrounding areas.

We offer same-day or next day delivery to the following areas for a flat fee of $12.
La Jolla, Carmel Valley, Rancho Santa Fe, Sorrento Valley and surrounding areas.

We offer same-day or next day delivery to Downtown San Diego and surrounding areas for $17

Call us today at 760-456-4731 to inquire
about our services.