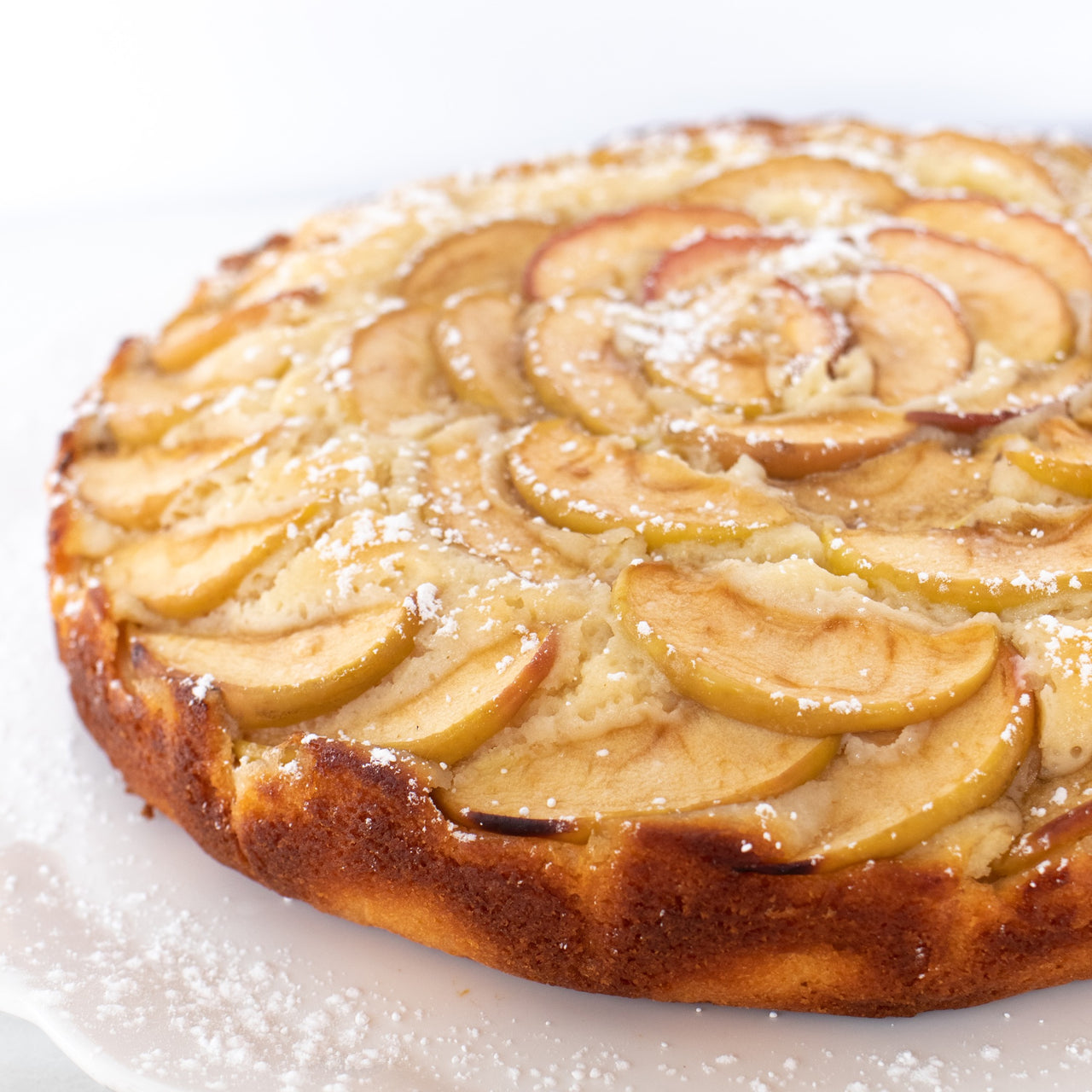 San Diego
Pickup & Delivery

Handmade
From Scratch

The Finest
Ingredients

Authentic
French Desserts
Description
There is no better reason to eat cake for breakfast than the Bonpastry Apple Yogurt Cake!

This cake is a traditional French clafoutis – a light, moist cake topped with fruit before baking. Clafoutis (pronounced klah'-foo-tee) are known for bringing plenty of flavor without being overly sweet or heavy.

The love we have for baking shines through in the delicately sliced apples, carefully arranged in a rose pattern on top of this classic French cake. It's as pleasing to look at as it is to eat.

Serving Suggestions

We love a slice of Apple Yogurt Cake with our mid-morning cup of tea, but it works just as well after a classic French lunch of Quiche Lorraine and a green salad dressed with tarragon vinaigrette.
An Apple Yogurt Cake delivered to their doorstep makes the perfect present for friends or family celebrating a new home, baby, or job. They'll thank you again every time they eat the next slice!
Ingredients
Clafoutis appeared during the nineteenth century in the region of central France, Limousin, whose clafoutis is considered to be the most traditional. The name of clafoutis is the subject of etymological controversy. According to some, the word originates in the word Occitan dialect clafir or claufir which means "garniture" or "filling". For others, the origin of the name goes back to the Latin word clavum fingere which means "plant a nail", referring to the cherries, which are "planted" in the dough. In Occitan language (language of the South of France, North-Western Italy and Monaco), it is sometimes called pelhaire , which means "rag man", because the juice made by the cherries during the cooking color paste uneven purple and gives it the ragged appearance of a rag. It is said that cherry is the favorite fruit of the French , since its triumphal entry into the Middle Ages. Among the conquered, there are two illustrious characters. Louis XV, who loved it to the point of encouraging its development by promoting the discovery of new varieties. It is to him that the French owe the optimization of the culture of the modern cherry tree. As for Napoleon, he loved cherries so much that the type of cherry he preferred, now bears his name. In France , from the Middle Ages, the cherry enters the menus, raw or cooked in the wine, and it is served as a dessert. This sweet and delicate fruit was widely appreciated, but also the wood of his tree. The medical school of Salerno (Xth - XIIIth century) has extolled its virtues in these terms: "Cherry, kind fruit, what good you give us! You flatter our taste, you make our moods pure. You pour a new blood into your body and for the calculators you give your nucleus. " Did you know that around the cherry have flourished myths and legends around the world? Here are some of them, for the most famous: - In Greek mythology , the leaves of the cherry tree were the sacred plant of Venus and its fruits always bore good luck in love. - Among the Italians , always as romantic, in Sicily precisely, it is said that declarations of love made under a cherry tree leads to a happy and happy relationship. - The Saxon legends say that cherry trees shelter the gods who protect the fields. - The Chinese say that cherry represents feminine beauty and the Japanese have made cherry blossom the national symbol. the Japan also provides his own explanation as to the pink color of his flowers: they say that, originally, cherry blossoms were white but after the samurai fell in battle, they were buried under the cherry petals that have become pink because of the blood of powerful men.
Delivery & Pickup Information
Delivery Information
We are delivering at this time with no delays with safe no-contact delivery if requested.

We look forward to the opportunity of serving you our delicious pastries delivered directly to your door to bring joy to your household during these times.

We deliver in San Diego County area 7 days a week. Please call us anytime at (760) 494 - 7512 for additional delivery information or requests.

We offer Same Day Delivery to the following areas for a flat rate of $5:
Carlsbad, Leucadia and Vista,

We offer same-day or next day delivery to the following areas for a flat fee of $7.
Encinitas, Solana Beach, San Marcos, Oceanside,

We offer same-day or next day delivery to the following areas for a flat fee of $9.
Del Mar & surrounding areas.

We offer same-day or next day delivery to the following areas for a flat fee of $12.
La Jolla, Carmel Valley, Rancho Santa Fe, Sorrento Valley and surrounding areas.

We offer same-day or next day delivery to Downtown San Diego and surrounding areas for $17

Reviews
Customer Reviews
11/21/2022
Clara R.

United States
Best French bakery in town
Bonpastry has the authentic and delicious French bakery in San Diego. I been looking for a good French bakery in Los Angeles and San Diego without luck, but by accident I found Bonpastry wish makes delicious cakes, cookies, fruit tarts, napoleon cakes etc. I am pleased to had found a place where I can enjoy it a real French experience .
04/08/2021
Michele B.

United States
Apple yogurt cake
Excellent! My son was delighted with this birthday surprise apple yogurt cake that brought back memories of his childhood in France. Bravo!
11/09/2020
Giulia P.

United States
Great quiches!
We bought a spinach quiche for a party. It was a hit! The dough is flaky and the filling very tasty.
Call us today at 760-456-4731 to inquire
about our services.